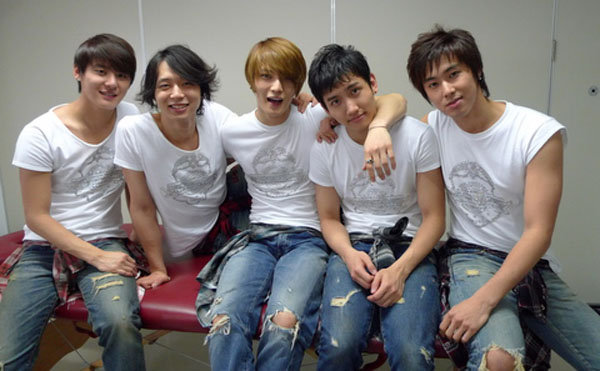 " Doktor, macam mana dengan Changmin?" tanya Yunho. " Dia dah okay tapi dia sedang tidur kerana kami suntik ubat agar dia dapat berehat," jawab doktor yang bernametag Kang Minhyuk. " Yunho, I need to tell you something. Changmin has pancreatic cancer," kata-kata Dr. Minhyuk membuat Yunho tersentak. " Bwo? Dia masih boleh diselamatkan?" tanya Yunho dengan linangan air mata. " Mianei, Yunho. Unfortunately, I can't. Just a miracle can save your dongsaeng," ujar Dr. Minhyuk.
***
" Changmin, are you okey now?" tanya Yunho. Changmin hanya menggangguk lemah. " Hyung, Changmin sakit apa? Everything is good, right?" Changmin memandang Yunho. Yunho kehilangan kata-kata. Dia tidak mampu untuk memberitahu Changmin mengenai penyakitnya. " You will okey, Changmin. Hyung akan pastikan itu," kata Yunho sambil tersenyum. " Hyung...Changmin rindukan Jaejoong hyung, Yoochun hyung dan Junsu hyung," ujar Changmin secara tiba-tiba. Yunho hanya memandang Changmin tanpa sebarang kata. " Dah lama kita tak jumpa dorang kan? Hyung, boleh Changmin nak jumpa dorang?" tanya Changmin. " Kenapa tiba-tiba kau cakap pasai dorang?" tanya Yunho. " Don't know, hyung. Tapi Changmin hanya rasa nak jumpa dorang sebelum terlambat," jawab Changmin perlahan. " Yah~ jangan cakap macam kau dah nak mati!" marah Yunho walaupun dia tahu hakikatnya. " Hyung, boleh tak Changmin nak jumpa dorang?" tanya Changmin lagi. " Hyung akan jumpa dorang! Hyung akan paksa dorang untuk jumpa kau! Okey?" balas Yunho. Changmin tersenyum. " Gumawo, hyung".
***
Changmin sedang nyenyak tidur ketika Heechul dan Jonghyun datang melawat Changmin. " Yunho, you need to tell Changmin about his disease," ujar Heechul perlahan. " Yes hyung, you need to do it," kata Jonghyun. Yunho hanya mampu memandang wajah mereka sambil cuba menahan air mata daripada menitis. " I can't hyung, Jong-ah! I still can't accept that he will die, he will leave us!" ujar Yunho perlahan. Tiba-tiba mereka bertiga terdengar bunyi sesuatu jatuh dari luar bilik rawatan Changmin. Yunho terus bangun untuk melihat apa yang telah berlaku. Yunho terkejut apabila melihat Junsu berdiri kaku di depan bilik Changmin dengan linangan air mata. " Junsu?" Yunho terkejut apabila melihat Junsu setelah hampir bertahun mereka tidak bertemu. " Hyung, apa yang Junsu dengar tak betulkan? Changmin okey ja kan?" tanya Junsu dengan linangan air mata. yunho terus memeluk Junsu. " Mianei, Junsu. Hyung tak jaga our maknae dengan baik..mianei," Junsu terus menangis di pelukan insan yang pernah menjadi leadernya. Dia tidak pernah menyangka bahawa mereka akan dipertemukan dalam keadaan sebegini.
Heechul dan Jonghyun hanya mampu melihat. Air mata mereka turut menitis. Tanpa mereka sedari, Changmin melihat segala yang berlaku. " Jika aku perlu sakit untuk menyatukan kembali kami seperti dulu, aku sanggup menanggung kesakitan itu. Aku hanya ingin diberikan peluang untuk merasai kebahagian yang pernah kami kecapi dulu," bisik hati kecil Changmin.
***
" Junsu, apa yang dah berlaku? Kenapa kau menangis?" tanya Jaejoong. Jelas terpapar riak kebimbangan di wajahnya. " Hyung....Changmin...." Junsu tidak mampu menghabiskan kata-katanya. Hanya esakan yang kedengaran. " Kenapa dengan Changmin? Hyung dengar yang dia masuk hospital, dia okey kan?" tanya Yoochun pula. " Hyungs..Changmin sakit...pancreatic cancer..." tangis Junsu. Wajah Yoochun dan Jaejoong berubah. " Junsu!!! Jangan nak merepek. He is okey, right?" nafI Jaejoong. Walaupun mereka bertiga bukan lagi member DBSK, dia tetap sayangkan Changmin dan Yunho. Mereka berdua pernah menjadi sebahagiaan daripada kehidupannya. Dia sentiasa mendoakan yang terbaik untuk mereka.
Junsu sudah terduduk sambil linangan airmata. " Hyungs, Junsu tak bohong...Changmin...he...is.." Junsu tak mampu menghabiskan kata-katanya. Air matanya terus menitis tanpa henti. Jaejoong dan Yoochun sudah terkaku. Junsu tak mungkin berbohong. Junsu tidak mungkin mereka-reka cerita sebegini kerana mereka berdua tahu betapa Junsu sangat menyayangi Changmin, betapa dia tidak mahu meninggalkan Changmin dulu. " Hyung, what we do now? I don't want to lost him.." tangis Junsu tanpa henti. Jaejoong dan Yoochun turut memeluknya. Mereka turut menangis.
***
Jaejoong mendengar bunyi loceng, lantas dia bangun untuk membukanya. Dia cukup terkejut apabila melihat Yunho sedang melutut di hadapan pintu rumahnya. " Yunho!! Apa yang kau tengah buat nie?? Bangun!!" jeritan Jaejoong membuatkan Junsu dan Yoochun turut berlari keluar. Mereka berdua turut terkejut apabila melihat Yunho sedang melutut. " Changmin nak jumpa korang..itu permintaan dia..tolong tunaikan. Aku tahu korang mungkin bencikan aku kerana aku tak cuba pertahankan korang dulu..tapi Changmin, dia..akan mati..itu permintaan dia yang terakhir.." rayu Yunho. Jaejoong terus memeluk Yunho dengan linangan air mata, " Kitaorang tak pernah bencikan kau. Kitaorang sayangkan kau dan Changmin. Tanpa kau merayu pun, kitaorang akan tetap pergi melawat Changmin kerana selamanya dia adalah maknae kesayangan aku. Jangan risau, Changmin seorang yang kuat. Aku tahu dia pasti mampu bertahan," ujar Jaejoong perlahan. " Aku takut..aku takut, aku akan kehilangan dia seperti aku kehilangan korang bertiga..aku tak kuat," tangis Yunho. Junsu dan Yoochun turut menangis.
***
" Changmin-ah, hyung ada surprise untuk kau," ujar Yunho sambil tersenyum. " Apa, hyung?" tanya Changmin. Yunho membuka pintu dan tiga orang yang ditunggu oleh Changmin masuk ke dalam bilik wad Changmin dengan senyuman. " Hyungs!!!!" Changmin terus memeluk mereka bertiga dengan linangan air mata. Hanya Tuhan saja yang tahu betapa dia merindui mereka bertiga. " Yah! Sejak bila kau jadi crybaby nie?" tanya Jaejoong sambil mengesat tangisan Changmin. " Bogoshipo hyungs..jeongmal bogoshipo," tangis Changmin. Yunho melihat mereka berempat daripada jauh. Tanpa sedar, air matanya turut menitis. " Mianei Changmin..andainya hyung mempertahankan mereka bertiga dulu. DBSK akan tetap berlima..dan kau takkan kehilangan dorang..joengmal mianei," bisik hati Changmin.
***
(Sebulan kemudian)
Mereka berempat tidak pernah meninggalkan Changmin. Mereka sentiasa menjaga Changmin tanpa mengira siang dan malam. Di saat Changmin menjerit kesakitan, mereka akan selalu ada untuk memeluk dan memberinya semangat. Di saat Changmin menangis, mereka akan selalu ada untuk mengesat tangisannya dan membuatnya ketawa semula. " Hyungs, Changmin gembira kerana Changmin dapat penyakit nie," ujar Changmin dengan senyuman. Junsu menampar perlahan bahu Changmin. " Yah! Why you talk like that? Nie bukan perkara yang menggembirakan. Babo!" marah Junsu. Changmin tersenyum. " Disebabkan penyakit nie, kita dapat berkumpul kembali. Changmin dapat merasai kasih sayang 4 hyungs kembali. Hanya Tuhan saja yang tahu betapa Changmin rindukan saat-saat dulu. Changmin rindukan saat kita berlima perform. Kalo dengan merasai kesakitan ini, Changmin dapat lalui semua kegembiraan dulu, Changmin rela sakit," mereka berempat terdiam saat mendengar kata-kata Changmin. " Hyungs...boleh tak kalo kita perform as 5 members lagi? Just once!" rayu Changmin.
Semua mata memandang Yunho. Yunho memegang tangan Changmin. " We will perform as 5 again, don't worry..hyung janji," ujar Yunho perlahan.
***
Hasil rayuan Yunho dan bantuan artis SM yang lain, sebuah mini konsert telah diadakan demi menunaikan permintaan Changmin. Yunho gembira saat melihat senyuman di bibir Changmin. Senyuman yang sudah lama tidak dilihatnya. " Changmin, hyung sanggup lakukan apa sahaja asalkan hyung tak kehilangan kau dan mereka. I just want to turn back the time," bisik hati Yunho. " You guys ready?" tanya Yunho selaku leader. Mereka hanya mengangguk. Kegembiraan jelas terpancar di wajah mereka semua. Akhirnya mereka dapat perform sebagai satu kumpulan lagi.
Mereka menyanyikan lagu yang pernah menaikkan nama DBSK pada suatu ketika dahulu. Cassiopeia hanya mampu menitiskan air mata gembira kerana hanya penantian mereka selama ini tidak sia-sia. " DBSK OT5" jerit mereka semua sehinggalah 2 jam berlalu. " Terima kasih kerana menanti kami tanpa jemu. Mianei kerana kami dah kecewakan Cassiopeia kerana berpecah..jeongmal mianei," ujar Yunho dengan perlahan. Air matanya menitis laju. Hanya Tuhan saja yang tahu betapa kecewanya diri kerana gagal mempertahankan membernya sendiri. Air matanya menitis saat mengenangkan hubungannya dengan JYJ yang terpaksa diputuskan atas permintaan SM. Dia menyesalkan tidak mempertahankan persahabatan mereka.
" Don't cry," jerit Cassiopeia. Jaejoong memeluk Yunho, " Yunho, ini bukan salah kau. Kau adalah leader yang terbaik". Tiba-tiba, Changmin jatuh sambil memegang perutnya. Mereka berempat memegang Changmin. " Shin Changmin, keep strong..Yah!!" jerit Junsu apabila melihat Changmin semakin lemah. Cassiopeia di bawah mulai tertanya-tanya apa yang sebenarnya sudah berlaku. " Hyungs...terima kasih kerana tunaikan permintaan Changmin..Junsu hyung, Yoochun hyung n Jaejoong hyung...tolong jaga Yunho hyung untuk Changmin..mianei..saranghae...," ujar Changmin sebelum menutup matanya. " Shin Changmin," jerit Yunho.
***
" Shin Changmin!!" jerit Yunho. Dia terjaga daripada tidur. Ya Tuhan, mimpi ja ke? Yunho memandang calendar di sebelahnya. Tarikh ini? Jadi, semua yang berlaku tue mimpi? Yunho menarik nafas lega. " Tapi itu mungkin satu petanda..aku tak boleh biarkan itu berlaku.."
***
" Korang nak teruskan saman tue? I guess you know what will happen, right?" ujar Kim Young Min. " We will leave this company," ujar seseorang. Junsu, Yoochun, Jaejoong dan Kim Young Min menoleh ke arah suara itu. Mereka terkejut apabila melihat Changmin dan Yunho. " Apa yang korang buat di sini?" tanya Kim Young Min dengan suara yang tegas. " Protect my members? Bukankah itu tanggungjawab sebagai leader?" ujar Yunho dengan selamba. " We will leave as 5 members. Because DBSK is not DBSK without them," ujar Yunho dengan tegas. " Jadi kau pun sanggup untuk tinggalkan company nie?" tanya Kim Young Min. " Yes..because we will always be together no matter what happen. I will protect my members. Itu adalah janji saya selama ini," ujar Yunho lagi.
***
" Yunho, kau pasti ke dengan keputusan kau? Changmin, kau pasti?" tanya Jaejoong. " Changmin percayakan hyungs..kalo hyungs rasa ini yang terbaik, maka inilah yang terbaik untuk Changmin," jawab Changmin. " Pada permulaannya, aku memang tak nak tinggalkan company kerana aku takut kita tak mampu untuk teruskan kerjaya kita tanpa SM..tapi sekarang, aku lagi takut kehilangan korang. Aku tak nak kehilangan persahabatan ini. Aku tak nak mengingkari janji aku. Sekarang, aku dah tak pedulikan masa depan kerjaya aku lagi, aku hanya nak kita berlima setiap bersama. Melindungi dan menyayangi antara satu sama lain lagi. Aku tak nak kehilangan salah satu daripada korang," ujar Yunho dengan perlahan. DBSK terus memeluk Yunho. Kedengaran tangisan Junsu ketika itu. Dia benar-benar terharu apabila mendengar kata-kata leadernya itu. " You really the best leader, Yunho," ujar Yoochun. " Kita takkan terpisah, percayalah.." ujar Jaejoong pula.
***
(5 tahun kemudian)
" Hyungs.!!! Drama Jaejoong hyung dah nak start," jerit Changmi daripada ruang tamu. Mereka semua kecuali Jaejoong yang masih lagi di lokasi shooting terus berlari ke ruang tamu. " Wow...hand....dohnya hyung," ujar Junsu. " Hand..doh? Apa tue?" tanya Changmin. " Handsome+hodoh! Babo!" Changmin mencebik. " Sapa yang babo nie? Hyung ke Changmin?" marah Changmin. Sebelum sempat Junsu membalas, Yoochun sudah menyumbat tisu di dalam mulut kedua-duanya. " Korang berdua nie tak boleh diam ke? Sekarang, duduk diam-diam. Jangan buang tisu tue selagi hyung tak suruh. Arasso?" sengaja dimasamkan mukanya. Junsu dan Changmin terus mengangguk laju. Takut agaknya.
Yunho hanya ketawa melihat karenah member-membernya. Dia bersyukur kerana dia telah membuat keputusan yang betul dengan memilih untuk tetap bersama mereka semua. Andainya dia memilih sebaliknya, sudah pasti semua kebahagiaan yang dia sedang kecapi ini tidak dapat dilalui. Kemungkinan besar mimpinya mampu menjadi kenyataan. " Hyung, bila kita nak start recording?" tanya Yoochun. Manakala Junsu dan Changmin hanya memandang lakonan Jaejoong tanpa bergaduh lagi. " Dalam masa 2 minggu lagi," jawab Yunho. Akhirnya, mereka berlima dapat membuktikan kepada SM bahawa mereka berlima masih mampu berjaya meskipun tidak dibawah company itu lagi. Buktinya, mereka masih mampu bertahan di industri ini sehingga sekarang. Bahkan mereka juga di antara top10 kumpulan lelaki yang popular. " Kami berlima akan tetap bersama hingga akhir hayat. Aku akan lindungi mereka sehingga akhir nafasku..i love you guys a lot..," bisik hati Yunho.
* I really hope that they can perform as 5 members again..*